Ode to the Ham Hocks
by M (the DH - or dear husband)
Oh Ham Hocks, dear Ham Hocks
So chubby and cute
How you bulge from the diaper
Stretching from mid-knee to glute
When you are raspberried
She laughs and coos
How lucky we are that
You come in twos!
You grow slightly thinner
As she stretches each day
Please, chunky Ham Hocks
Don't ever go away
When you are Ham Hocks no more
And become just thighs
Her goofy Daddy will pause
And maybe dry his eyes
But for now, keep wiggling
As she giggles with glee
While I swing her over my head
And yell, "Weeeeee!"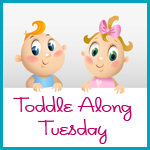 This week's Toddle Along Tuesday topic is
Something you love about your kid(s)
. Choose one thing, or choose many things! Link up an old post or a new post...whatever you'd like! There are no rules, except that you link up a post rather than your whole blog.
If you'd like to grab the linky list and display it on your blog,
get the InLinkz code
!