I've been getting a lot of questions about next week's Toddle Along Tuesday topic. We're doing something a little different this time around.
The topic is your favorite photo
. It can be of anyone or anything, taken at any time, the only rule is that it must be
taken by you
.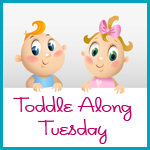 So what's different this week?
It is going to be a contest!
M will be my guest judge and he'll select his favorite photo out of all of your submissions. I usually leave the linky open all week, but this time I'll be closing it on Friday, April 6th at 11:59 PM EST. He'll pick a winner over the weekend.
The prize?
A free 200x150
ad space
on the blog for a month! I just started using this amazing new ad system called
Passionfruit Ads
. Gone are the days of sending payments and HTML codes over e-mail. You just input everything (banner/ad, link and PayPal info) into the site and then your ad magically appears on the blog! This will save everyone involved so much time, and I'm super excited about it. So I'm celebrating with this contest :)
My co-host will be Staci from
Gatorette and Me
. Check out some of her beautiful pictures!
Please let me know if you have any questions or concerns about the contest. Hoping to see lots of you participate! Have a great weekend :)