Okay bloggy mamas, you made this one so hard. You all have such beautiful kids and I think it's amazing that all of you put your lives out there in your posts with great writing. Obviously, my favorite pic is the one with Carina that Mama G posted – watching your little one explore the world with amazement reminds us to do the very same thing and appreciate all of those little things even more.
Mama G and I have always joked that we wanted kids so we could play with toys again, but I think there is something real to that sentiment. We love the fact that Carina has us laughing at things and enjoying little parts of live that we maybe overlooked before we got to know her. Our children teach us things that only their own children will be able to teach them someday.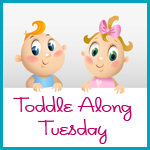 With that, on to our winning photo. I saw amazing entries – several bathtime photos almost took the cake. I loved seeing naptimes with parents, great shots of little ones playing, making messes, snuggling pets, and doing things that only a two-foot tall little squirt could get away with. Our winner is one that I think is not only a very cute picture, but one that really encompasses a lot of what I think it means to be a Dad – leading our little ones out into the world full of other people, helping them do it on their own two feet. So congratulations to
entry #51
on the link list, submitted by
Phase Three of Life
!