Truth be told, I'm lazy. I would much prefer to sit on my butt and peruse a handful of websites, pick what clothes I like, and cross my fingers that whatever I purchase fits Carina (or me), than waddle around the mall, thumb through 20 of the same shirt trying to find my size (and I rarely can), and then spend fifteen minutes trying everything on. So it's safe to say that the internet shopping is right up there amongst the best inventions ever, in my humble opinion.
My favorites:
Kohl's
- Every now and then their Clearance section is amazing. And usually? There is a coupon code for 30% off and you can get $10 in Kohl's cash for every $50 you spend. I bought Carina 5 little skirts last Fall for $2.20 each (before the discount!), in 18 Month and 24 Month sizes. They are perfect right now! Most of Carina's 0-6 month wardrobe came from Kohl's; you can't beat Carter's creepers for $3.
We have this skirt in 5 colors, no joke
Zulily
- Flash sale websites (like this one and the one below) have amazing sales that last for only 24 to 72 hours. The retailers that they feature sell a variety of products including clothes, toys, and gear for babies, as well as maternity and Mom fashions. I bought all of Carina's HALO sleep sacks, Melissa & Doug toys, See Kai Run shoes, and iPlay swimwear on Zulily. My favorite purchases ever? Carina's very first newborn shoes - they were only $5.99 each.
Etsy
- I love to support work-at-home Moms as often as possible, so when it comes to cute accessories for Carina (I may or may not have a
headband and bow obsession
), I start my search there!
Carina's Etsy bows in all their glory
If you do as much online shopping as I do, be sure to sign up for
eBates
- it gives you a percentage back on every purchase you make. Apparently I shop online too often, as I've gotten back more than $200 in the last year (umm...eek?)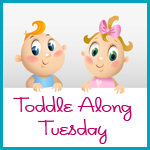 My co-host for Toddle Along Tuesday this week is Amber from
Educating Miss Amber
and the topic is
places to shop
! Do you have a favorite store, love consignment sales, or do your shopping online? Share your favorite places to shop for your kids or yourself. Maybe show off some of your fave finds, too! There are no rules here, except that you link up a
relevant
post (old or new) rather than your whole blog.
Next week's topic is
your Mom
! Tell us about her. What is she like? What is your relationship like? I meant to do this around Mother's Day, but forgot (oops!) Old post or new post, either is fine!
If you like advance notice for TAT, check out the bottom right of my blog - topics for the next couple months are listed. Would you like to submit a topic idea and/or volunteer to co-host one week?
E-mail me
!