Truth: I have absolutely no clue what I want to do for the rest of my life.
I have a BS in Biology from Villanova and had planned on attending medical school after I graduated. At the time, it just seemed like the logical "next step", as I have always loved science and the medical field. But when I went for interviews and spoke with the current students, I changed my mind. I realized that I wasn't 100% sure that I wanted to become a doctor, and with the rather large time (and money!) commitment, it just didn't make sense to jump in, in the hopes that I would eventually come around.
With my Daddy on Graduation Day
Instead, I took my previous experience as a Pharmacy Technician - which I did part-time for 6 years during high school and college and full-time for 1 year afterwards - and applied it to assuring the quality of software used by Pharmacists and Pharmacy Technicians. I really enjoyed both what I did and the pretty cool company for which I worked. I say cool because it has a treehouse that we used for meetings, and my building had a
moat and drawbridge
. And that was just the beginning of the themed buildings and decorations!
Because being at home has been a little
tough for me lately
, I am toying with the idea of returning to work after Aurelia arrives as a consultant. I would help my previous company's customers install, execute, and optimize the software that I worked on for so long.
I don't foresee this being my long-term career, though. When Mike is done with this Post-Doctoral Fellowship and gets a job as a Professor at a University (his current goal), my hope is to use his tuition benefits to go back to school. What for? Like I said in the opening of this post: at this point I have no idea. I'm going to take my time in figuring it out because I want to be sure that whatever it is, I am 100% invested in it. If money was no object? I'd probably work/volunteer at a Rape Crisis Center or teach medical students/doctors the truth about women's physiology (seriously - the number of doctors out there who insist that ALL women ovulate on day 14 of their cycle and get their period 14 days later is absolutely ridiculous).
Tell me about your job and/or career aspirations! Is there anyone out there who, like me, has no idea? Link up or comment!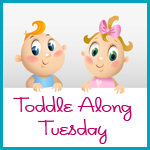 My co-host for Toddle Along Tuesday this week is Heather from
My Organized Chaos
and the topic is
occupations
! What do you do, or what did you do in your former life? Or what is your dream job? There are no rules here, except that you link up a
relevant
post (old or new) rather than your whole blog.
Next week's topic is
babies and pets
! Share some cute photos of your little ones and furbabies! I am fully prepared to die from cuteness.
If you like advance notice for TAT, check out the bottom right of my blog - topics for the next couple months are listed. Would you like to submit a topic idea and/or volunteer to co-host one week?
E-mail me
!