I had high hopes for this post. I was going to show you a few of each of the girls' new outfits, as well as a couple of my own. I had planned on showing off my new haircut {
as promised
}, too.
But then I got sick (on top of having
Mastitis
). And Mike came down with bronchitis. Carina followed with an awful cold. Not even Aurelia was spared. Her sad sad sniffles and teeny tiny runny nose make me want to cry. And it's still fricking freezing. I think a large portion of the country had snow today?
So we were a pitiful mess from Thursday morning until...well, Mike and I are finally starting to feel better. The girls are still miserable. As for our photos with cute outfits? We tried. Well, I tried with the girls. I felt too much like crap to even attempt to model anything. No cute Mama G for you.
Carina's outfit:
Sweater - Hartstrings || Dress - Gymboree || Shoes - Scribbles


I thought we had a winner. Then she started trying to pull the dress off saying, "take-a off pretty dress!"
GET IT OFF!
Would we have better luck with Aurelia?
Aurelia's outfit:
Onesie - Gymboree || Skirt - Ralph Lauren || Leg warmers - BabyLegs
Nope. She rejected her outfit, quite literally...
Sorry, this was probably too gross to post. She's going to kill me someday.
Show me your cute outfits!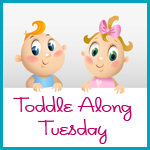 This week's Toddle Along Tuesday topic is
Spring Style
! I know it's still cold out there for a lot of you, but I'm hoping we can at least get psyched up for spring? There are no rules here, except that you link up a
relevant
post (old or new) rather than your whole blog.
Next week's topic will be
Easter
! Recap, post some cute photos,
Easter basket ideas
, etc. :)