Back in the late spring and early summer I participated in a number of blog hops. {For those who don't know what a blog hop is, you can probably stop reading, or you can check out my first
Toddle Along Tuesday blog hop post
} I really enjoyed discovering new blogs to read and loved seeing the number of Followers in my Google Friend Connect widget tick upwards. It was a win-win situation. I participated in one or two a week and wondered why I hadn't jumped on the blog hopping wagon sooner.
Pretty soon I noticed that the number of comments I was getting from other hoppers was surpassing those I received from my loyal followers.
"Cute blog, can't wait to read more!" - I would have preferred a comment on the actual content of my post, but okay, I guess.
"Following you from the hop!" - Really, that's it? Hmm...
"Please come follow me at http://www.mycrappyblog.com" - If that's all you have to say, then, No I don't think I will come follow you, sorry.
"I'm your newest follower from the hop - following on your blog, Twitter, and Facebook. I love when I can get all three in one place! If you could follow me on all three - or at least my blog and Facebook, that would be great." - Srsly?
My jaw dropped.
This comment made me feel cheap and dirty
. I quickly deleted the comment, hopefully before any of my readers saw it. It's likely that this person - and the people who leave similar comments, click that "Follow" button, and then never return. I don't need or want those people here. I would rather have a handful of faithful readers that visit my blog on a regular basis than have hundreds and hundreds of people whose faces appear in that GFC widget, but are never actually
seen
here.
I started my own blog hop,
Toddle Along Tuesday
, in the hopes of avoiding that cheap and dirty feeling, and creating more of a community environment. Since the hop was only for baby and pregnancy blogs it was certain that we'd have a lot in common. I am so thankful for all the great friends I made through the hop!
Towards the end, though, blogs that were
not
baby or pregnancy related started linking up, and the number of bloggers joining for the first time who were actually following me and my co-host
Kristin
was decreasing each week. This made me upset, because it takes a lot of time and effort to run a blog hop and we were barely getting anything in return. I decided that I didn't want to waste my time anymore. And that's when it hit me...
I had become exactly what I was trying to avoid
. I started caring more about the numbers I was gaining, instead of the friendships I was forming and the new blogs I was enjoying.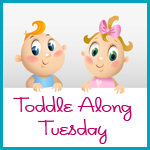 So you might have noticed that Toddle Along Tuesday has been on hiatus for about a month. I have been trying to find a way to improve the hop so that I would feel good about it (and myself). I am happy to announce that it will be back next week! But it's going to be a little different this time:
There will be no following requirements.
Instead of linking up your whole blog I will be asking you to link up a single post. Each week we'll have a post theme, and you can link a brand new post or an old post - whichever you'd like.
I won't be posting the linky on Monday nights, instead it will go up with my Tuesday morning posts.
I'm excited for its return! I think linking posts instead of entire blogs will weed out the irrelevant blogs and shops (yes - some people even linked up their store websites), and will be more fun for everyone.
I didn't write this post to judge or condemn anyone who participates in blog hops. I hope I'm not offending anyone, as that is not my intent at all. These are just my feelings in regards to them. What are your thoughts?