Yo. I'm Carina.
::insert beatbox rap sounds here::
I'm 9 months old and I fuss all day and night
Don't want to nurse, I just put up a big fight
I like to eat apples, pears, chicken, and cheese
I'm trying hard to crawl on my hands and on my knees
My stuffed monkey is my favorite toy to hold
I have the cutest dimple on my face (or so I'm told)
Playing in the Jumperoo almost always makes me glad
But I really would prefer to horse around here with my Dad
Pretty please link up and help my Mom with her endeavor
And go ahead and tell me I'm not the cutest baby ever ;)
Welcome to the
new and improved
Toddle Along Tuesday! I've made some changes which I hope will make the hop better than ever. First, there are no requirements to follow anyone. Second, instead of linking up your whole blog, I'm asking you to link to a single post written around each week's topic. It can be an old post, or a brand new one.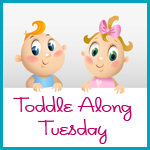 If you couldn't already guess, this week's topic is
Introductions
! I thought it would be fun to start with an opportunity to get to know each other's kids, so link up a post introducing your little ones (or your bump!) in whatever way you see fit - a post with photos, video, birth story, milestone post, whatever you'd like. There are no rules here, except that you link up a post rather than your whole blog.
If you'd like to grab the linky list and display it on your blog,
get the InLinkz code here
!