To say that M and Carina have the most adorable relationship would be an understatement. Watching him with her makes my heart flutter and thank God and my lucky stars that this man is my husband, best friend, and the father of my daughter.
Carina's birthday
6 months old
One year old
I can already see his goofiness in Carina. Her favorite time of day is when M turns into the
Daddymonster
(if you haven't read that guest post written by M, you should) or the Daddysaurus Rex. What is the Daddysaurus Rex? Envision if you would a cross between a Tyrannosaurus Rex and one of those velociraptors from Jurassic Park. He breathes on the glass door that separates our foyer from the family room, streaks two fingers across the glass, and growls as Carina shrieks with delight. Then he "attacks" - or romps around the floor with her. The barrel laughs that ensue are like music to my ears.
If only she would still appreciate this when she is 13.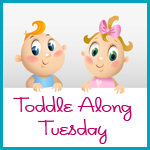 My co-host for Toddle Along Tuesday this week is Kacie from
Chasing Fireflies
, and this week's topic is
Babies and their Daddies
! Show off some adorable photos, write about their relationship, or maybe even have Daddy guest post. There are no rules, except that you link up a
relevant
post rather than your whole blog.
Next week's topic is
Nurseries
! Show off your baby or toddler's room, or share nursery ideas or decor. Would you like to submit a topic idea and/or volunteer to co-host one week?
E-mail me
!