Why "fail"? Well, because these photos aren't actually from July 4th. We had a great time at our friends' house, but due to the fact that I had horrible cramps and didn't even have the energy to break out the camera, no pictures were taken.
But? We played with the water table and in the baby pool all weekend with our cousins, just like we did on July 4th...so these faux holiday photos will have to suffice ;)
Whatcha looking at, Mom?
Welcome to my house!
Joy ride time, courtesy of cousin Conor
Pool time with cousins Gavin and Riley
Who says I can't climb up the slide?
Success!
First popsicle
What did you do on the 4th?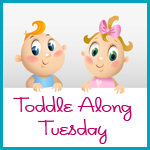 My co-host for Toddle Along Tuesday this week is Stephanie from
My Messmerized Life
and the topic is
July 4th
! Share photos of what you did or your traditions! There are no rules here, except that you link up a
relevant
post (old or new) rather than your whole blog.
Next week's topic is
Diapering
! If you cloth diaper, show off your stash! If not, share what you use, your routine, or any funny diaper stories. Feel free to be creative.
*Important note*
due to your feedback, starting next week I will be posting on Monday nights! If you like advance notice for TAT, check out the bottom right of my blog - topics for the next couple months are listed. Would you like to submit a topic idea and/or volunteer to co-host one week?
E-mail me
!