In Philly this past weekend the in-laws went out and bought Carina a baby pool. Unfortunately, I had forgotten to pack her swimsuits. I found one swim diaper while rummaging in the bottom of the diaper bag...
After about a half-hour she seemed to have had enough. So we went inside, and then 10 minutes later, "pool! Pool! Pool!" There was no stopping her; she wanted back in. I know we could have gone out and bought some more swim diapers, but eh, whatever...a regular diaper works just fine, right? ;)
We were actually really impressed with how well her disposable Luvs diaper held up. I'm not kidding, it's holding about 3 lbs. of water in the photo below. Watching her walk around with it slap slap slapping on her back thighs was HILARIOUS.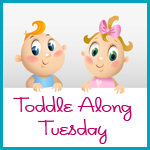 My co-host for Toddle Along Tuesday this week is Nicole from
The Kavanaugh Report
and the topic is
Summer Fun
! What have you done or what will you be doing this summer? Share some cute pics or your plans. There are no rules here, except that you link up a
relevant
post (old or new) rather than your whole blog.
Next week's topic is
July 4th
! Share photos from your celebration and/or your family traditions. Also? I'd love to see some cute patriotic babies ;)
If you like advance notice for TAT, check out the bottom right of my blog - topics for the next couple months are listed. Would you like to submit a topic idea and/or volunteer to co-host one week?
E-mail me
!