So far my life has been blessed with three "best" days. Days that I hope I forever remember in their entirety. Days that meant my life would never be the same.
The first was the day I married my best friend. The second was the day of
Carina's arrival
, and the third and most recent was
Aurelia's birthday
.
It seems appropriate to talk about the our wedding today, as I am actually in the Philadelphia suburbs visiting my in-laws, who live just 10 minutes away from where we were married. Our ceremony was at 3 PM on April 18th, 2009 at St. Thomas of Villanova Church at Villanova University - where Mike and I both attended college. Our reception afterwards was at Drexelbrook in Drexel Hill, PA.
Getting into my dress
St. Thomas of Villanova Church
That's my Grandpa marrying us. He's a Catholic Deacon. He married my parents way back when, baptized me in 1984, and
baptized Carina
last year. Mike actually picked up his ring to put on my finger before realizing he was doing it wrong ;)
A few of the groomsmen seemed to have missed the "this is a goofy photo" memo
Our first dance was to Falling Slowly from Once. If you know that song I'll give you a cookie ;)
Cake - because isn't that the most important part? ;)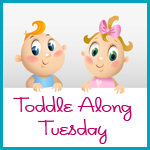 This week's Toddle Along Tuesday co-host is Amber from
Blissful and Wishful
and the topic is
weddings
! Share your photos! There are no rules here, except that you link up a
relevant
post (old or new) rather than your whole blog (or business, #comeonnow).
Next week's topic is
baby/toddler obsessions
! Ha, maybe I should have saved last week's post about
Carina loving coffee
for next week...
If you like advance notice for TAT, check out the bottom right of my blog - topics for the next couple months are listed. Would you like to submit a topic idea and/or volunteer to co-host one week?
E-mail me
!