...during her ultrasound. As soon as we saw the baby moving and dancing around, tears started running down my right eye (why just my right? No idea!) Watching the baby was truly amazing.
He/she is measuring right on track at 12 weeks and 3 days, and his/her heartrate was 171 bpm. The doctor said all of baby's measurements look great! We are just so elated, I can't even put it in words.
The tech was kind enough to print us 5 pictures, here are my two favorites: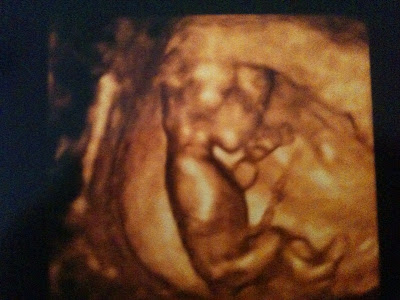 We were lucky enough to be in the one ultrasound room (out of a dozen) that had the 3D scanning capability. How awesome is the 3D picture?
Wow, I'm tearing up now as I write this. I seriously cry at the drop of a hat now, please don't judge!