I think I just typed out 3 or 4 different posts and deleted them all. Why is it so hard to find the perfect advice for my Mommy-to-be friends? Well, I guess therein lies the issue. There is no perfect advice.
I could tell you how we managed to get Carina in bed by 7 PM from 8 weeks onwards, but it might not work for your baby.
Every baby is different
. What worked for your sister/friend/cousin/Mother's baby might not be effective for yours. Moms everywhere will offer you advice on everything imaginable. Don't get frustrated or upset if their magic cure-all doesn't work for your little one.
I could tell you about the importance of having a
birth plan
, but almost
nothing went according to mine
.
Learn to be flexible
. With labor and delivery, and after your baby arrives - thing
may
will go awry. It's not the end of the world if you have to miss story time because baby is still napping or if you're late to church because of a poop blowout. Shit happens. You and baby will be much happier if you can go with the flow most of the time.
I could tell you about how important it is to rest and recover following the birth of your baby, except I failed at that.
Take care of yourself
. My bleeding ending up getting worse because I was up and about and trying to do too much. The dishwasher just
had
to be emptied. The apartment
needed
to be vacuumed. No, no, no. Rest, lounge, and let your husband take care of you; you deserve it. You just pushed a watermelon out of your vagina (or had it taken out of your abdomen).
The one thing I can tell you for certain is that your wants and desires when it comes to your baby are important.
Don't let anyone dissuade you from doing what you want.
Whether it is breastfeeding, cloth diapering, cosleeping, CIO (insert any other parenting decision here), if it is what you think is best for you and your baby, go for it. Surround yourself with people who are supportive and positive, and don't let the naysayers drag you down. They had their turn to parent - now, it's yours.
For more specific advice, check out the post I wrote just two weeks after Carina was born about the
things I wish I had known
. Reading it is cracking me up right now. GIANT diaper-like pads!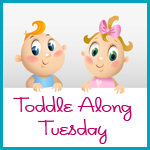 My co-host for Toddle Along Tuesday this week is Tottums over at
Froggy & the Mouse
! Head on over to check out her awesome post.
This week's topic is
advice for Mommies-to-be!
This can be funny, sarcastic, serious, whatever you'd like. Maybe things you wish you had known, or make fun of the bad advice you received? Feel free to use an old post, or write a brand new one. There are no rules, except that you link up a
relevant
post rather than your whole blog. Thanks to Sarah from
Nurse Loves Farmer
for this week's topic! If you don't have a post to link up, at least share your advice in a comment below :)
For those who like to plan ahead, next week's topic is
parties
! Link up a post about your child's birthday party, or share ideas (or pins) for a future party!