I spent at least an hour going through all of my many folders of pictures, trying to pick out one on which to bestow the title of "favorite". This was hard. I have so many adorable photos of Carina that melt my heart, but I think this one that I took on her
birthday
might steal the show. We were at Enchanted Village in Massachusetts, and the fake snow had just started.
It made her so excited. Every time it "turned on", she flailed her arms and kicked her legs. It was definitely the highlight of her day. Watching
her
was the highlight of mine.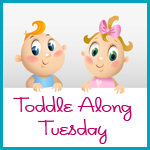 This week's Toddle Along Tuesday topic is
your Favorite Photo
! My co-host this week is Staci from
Gatorette and Me
. Your photo can be of anyone or anything, so long as it was taken by you (and yes, a tripod counts!)
And I'm shaking things up a little bit - it's going to be a contest this time! M will be my guest judge and he'll select his favorite photo out of all of your submissions. I'll be closing the linky list on Friday, April 6th at 11:59 PM EST and M will pick a winner over the weekend. The prize will be a free 200x150
ad space
on the blog for a month!