I've been through a number of diaper bags since Carina was born. First, I started with a Skip Hop ginormous monstrosity (which you can see the contents of,
over at Hello Jack
), then I moved on to a lovely Coach diaper bag my Mom gave me for my birthday. After Carina got a little bit of spit up on the Coach one (noooo!) I retired it as diaper bag and now use it as a tote for when I go out by myself ;)
Since then, I have been using the
timi & leslie Farah 2-in-1 Diaper Backpack
that I reviewed back in November. I love it.
Now for the contents! A few things for Mommy (coupons, wallet, chapstick), a couple toys, bibs, and then the focus as of late: food. I usually have a Happy Tot food pouch on me, as Carina really likes them. Cheerios and our new favorite - crunchy veggie-potato sticks are most often found inside, as well.
Of course there are diapers, scented disposal bags (we use these at playdates or when we are visiting family), wipes, and a changing pad. Other important things include sunscreen and an extra onesie. Most of the time we have a whole extra change of clothes. We had to use it recently and it looks like I didn't replace it...oops! Carina often pulls her headbands off in the car and I end up stuffing them in the diaper bag. They usually end up forgotten there. Lastly,
disposable placemats
. These are AWESOME. You stick them onto the table at restaurants and peel them off when you're done. I can't tell you how helpful they are.
Most of the time I feel like there is a ton of stuff in there, but looking at it all lined up like this, I'm actually feeling like quite the minimalist.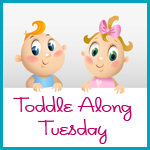 My co-host for Toddle Along Tuesday this week is Nancy from
The Chrancy Family
and the topic is
What's in your diaper bag
? Show us your bag and what's in it! I can't wait to see everyone's. There are no rules here, except that you link up a
relevant
post (old or new) rather than your whole blog.
Next week's topic is
Bedtime Routines
! What do you do before bedtime?
If you like advance notice for TAT, I just added a section at the bottom right of the blog that lists the Toddle Along Tuesday topics for the next few weeks! Would you like to submit a topic idea and/or volunteer to co-host one week?
E-mail me
!