I think because I've been feeling like such a failure lately due to Carina's "
failure to thrive
" issues,
this
particular first has meant so much to me. It makes me confident that I'm at least doing something right ;)
So here's Carina, identifying letters for the first time. She has "M", "N", and "O" down pretty well, and then gets "K" and "D" later on. "H" is debatable for now; it sort of sounds like "hache". She also knows that her name begins with "C"! Didn't catch that on video, though, sadly.
I've been working with her on letters a lot lately because 1. she
loves
them - she could circle this tower for hours yelling them out and 2. it makes for a nice welcomed break in between trying to get her to eat.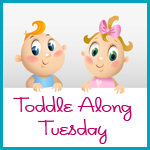 My co-host for Toddle Along Tuesday this week is Nikki from
Life with You Makes Perfect Sense
and the topic is
favorite firsts
! What milestone was the most precious for you? Sitting up, talking, walking, maybe a 1st birthday party, or something else? Feel free to gush and/or reminisce. There are no rules here, except that you link up a
relevant
post (old or new) rather than your whole blog.
Next week's topic is
places to shop
! Do you have a favorite store or website from which to shop? Or do you prefer consignment sales and thrift stores? Tell us and show us some of your fave finds! Old post or new post, either is fine!
If you like advance notice for TAT, I just added a section at the bottom right of the blog that lists the Toddle Along Tuesday topics for the next few weeks! Would you like to submit a topic idea and/or volunteer to co-host one week?
E-mail me
!