1. KidKraft
Pastel Coffee Set
- $29.99. She
loves coffee
, what can I say? ;)
2. Monkey Scentsy Buddy - usually $25, but currently
Buy 1 Get 1 Free
through 10/31! I may or may not have already bought 4 of these to save for gifts for others...
3. Step2
LifeStyle Custom Kitchen
- $89.99. She loves to help us cook!
4. Ikea
MALA Easel
- $14.99. Carina
loves her crayons
but doesn't have a designated space for coloring. Right now we just tape paper to our coffee table. This would be much better.
5. HearthSong
Pink Eco-Friendly Tool Set
- $27.98. What girl doesn't want pink tools?
6. Ralph Lauren
Striped Velour Dress
- $29.99. Yes, I know I have an unhealthy obsession with Ralph Lauren baby clothes!
7. Lego
Duplos
- $39.59. Mike's folks have a bunch of these and Carina went crazy playing with them when we were visiting last week. She yells "doo-puh-loes!!" and it's the cutest thing ever, I promise.
8. Old Navy
Performance Fleece Booties
- $7.94. Carina has these but is about to outgrow them. She loves them so much, so we'll have to get another pair in the next size up.
9.
Big Anthony and the Magic Ring
by Tomie dePaola - $7.00. Ever since we checked this out from the library Carina wants to read it ALL the time. It's worth buying it at this point.
10. Calico Critters
Cloverleaf Manor
- $179.95 (eek!) This might be overkill, we'll probably look for a used one if we even get it. Carina
plays with these critters
for hours, though, so it might be worth it.
Whoa, that's a lot of stuff. We won't be buying all of it for sure...a few things for Christmas, and a few more for her birthday just 3 days later. Now to decide which to get! That's the fun part, right?
What's on your little one(s) holiday lists?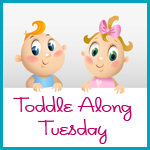 This week's Toddle Along Tuesday co-host is
The Stay-At-Home Attorney
and the topic is
holiday wish lists for your little ones
! What is on his/her wish list this year? We'll do lists for ourselves in a couple weeks ;) There are no rules here, except that you link up a
relevant
post (old or new) rather than your whole blog (or business, #comeonnow).
Next week's topic is
Halloween
! I can't wait to see your costumes!
If you like advance notice for TAT, check out the bottom right of my blog - topics for the next couple months are listed. Would you like to submit a topic idea and/or volunteer to co-host one week?
E-mail me
!