Carina has always been intrigued by watching us cook, to the point that Mike is sometimes forced to whip up pancakes one-handed, with Carina in one arm and the spatula (or "patch-a-ta" as she calls it) in the other lest we all suffer through an epic tantrum.
He might kill me for sharing this one
There, that's better
Before she could piece together sentences she would holler, "cook Daddy!" or "cook Mommy!" as soon as we turned on the stove. At the time we hoped that she didn't intend to actually cook us, but rather cook
with
us. Now she can clearly articulate that she wants to help, and not sauté Mommy or Daddy.
We had a play kitchen on
Carina's Christmas List
but couldn't afford one this year, so we were quite excited to learn that my parents (Carina's Mimi and Pépère) went all out and not only purchased one for her, but tricked it out with all sorts of food and sundries.
Carina's kitchen in all its glory
Playing with her cousins (left), cooking (top right), and about to refrigerate Snow White (bottom right)
In addition to cooking play food and putting it in the refrigerator and cabinets, she also enjoys placing her Disney princess figurines inside every nook and cranny. Her favorites? The microwave and oven. Every now and then I'll discover that she is cooking up a dozen princesses.
A regular occurrence around these parts
What was your little one's favorite gift?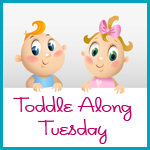 This week's Toddle Along Tuesday co-host is Heather from
Mama Dish
and topic is
favorite Holiday gift
! Now that the Holidays are over, what gift has proven to be your child's favorite? (or yours!) There are no rules here, except that you link up a
relevant
post (old or new) rather than your whole blog.
Next week's TAT topic will be
how you met your significant other
! Let's flashback to when it all began.