Carina's current nursery is actually the 3rd room that she has slept in during her short life so far. First she stayed with us in the
loft of our apartment
on the West side of Madison (P.S. feel free to laugh at my waddling in that video tour). Then our
asshole
cruel and heartless apartment complex
made us move
, so Carina had her own bedroom in our next place. Unfortunately, she had to share it with piles and piles of boxes. So when we
finally moved
to Connecticut in December, we were so excited to set up a proper nursery for her.
It is still not quite done. We have a few things to put up on the walls and hang from the ceiling, but we haven't figured out how to do that without destroying the fragile plaster yet.
Our summer project is going to be stripping the armoire (below) that M has had since he was a kid, and refinishing it to be the same stain as the crib and changing table.
We hope to replace the two diaper-case boxes covered in sheets that we are currently using to store her toys (above, back left) and books (below, bottom center) with an actual toybox and bookcase, but
money is a bit tight
right now.
After I took all these photos yesterday evening I realized I never got a good shot of the crib! And since Carina is sleeping as I write this, you'll have to settle for the best one I already have.
I am pretty sure we'll end up getting the same crib for baby #2, as well. Eeek, speaking of, we'll have to make room in the nursery for it! It's going to be hard considering the room has three separate doors, AND a closet door. Who needs three doors in a second bedroom? lol...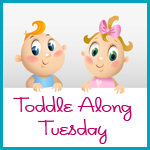 My co-host for Toddle Along Tuesday this week is Libby from
ELF: A Family Blog
, and this week's topic is
Nurseries
! Show off your baby's nursery, child's room, or post some nursery ideas or
Pinterest inspiration
. There are no rules, except that you link up a
relevant
post rather than your whole blog.
Next week's topic is
something you hope your children do or don't inherit from you
. Maybe a bad habit, a great feature, or annoying personality trait? Should be fun :) Would you like to submit a topic idea and/or volunteer to co-host one week?
E-mail me
!