After not being able to get away at all last summer due to Mike's crazy rushing-to-finish-his-PhD schedule and my having no vacation time at all before I
stopped working
at the end of August, we were so excited to be able to get away on a number of occasions this time around.
In June we spent
some time on Cape Cod
with my family. My favorite photos:
In July we took a few trips to visit Mike's family in
Philly
, and my sister and family in
Massachusetts
.
In August, we spent a week in
Virginia Beach
with Mike's family after my weekend at
BlogHer
!
For us, visiting our families was the theme for the summer. We were on the road quite often (sometimes 3 times in a month!) which was tough, especially with Carina's frequent bouts of car sickness, but after being half way across the country out in Wisconsin for 5 years, we felt compelled to make up for lost time :)
What did you this summer?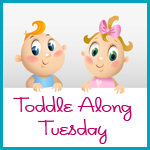 This week's Toddle Along Tuesday co-host is Meghan from
Crazy Casa K
and the topic is
Vacations
! Where did you go this summer? Show off some pics and tell us what you did! There are no rules here, except that you link up a
relevant
post (old or new) rather than your whole blog (or business, #comeonnow).
Next week's topic is
Things You Actually Say
! I LIVE for posts like this. Tell us some of the crazy things that have come out of your mouth lately. Check out
some of mine from a few months ago
!
If you like advance notice for TAT, check out the bottom right of my blog - topics for the next couple months are listed. Would you like to submit a topic idea and/or volunteer to co-host one week?
E-mail me
!